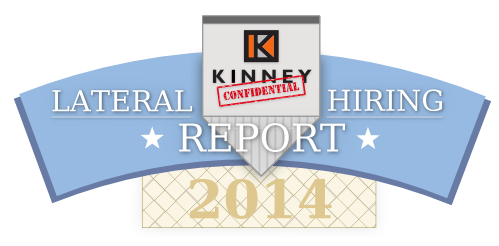 This week we are issuing the first part of a special year-end report on lateral hiring trends in the legal market.
While our friends at some serious legal publications do their best to report on the legal market's health by tracking such things as revenue per lawyer and profits per partner, here at Kinney Recruiting we like to focus our attention on a narrower information set. Not surprisingly, we concentrate on collecting data that illuminates hiring and employment trends among leading U.S. law firms.
We find this data incredibly helpful for providing advice to attorneys and law firms when they are considering making a move. No doubt, this report will be most interesting for partners and associates who are mulling over their options at the outset of the New Year. But even if you are happy with your current practice and have no interest in testing the waters, we think this report yields some interesting insights about overall trends in the legal market and should be of interest to practitioners and law firm managers alike. The data clearly shows that partner lateral hiring has become an important part of the management toolbox for the vast majority of big law firms in their pursuit of opportunity and growth.
We're publishing the report in two parts. This week we're focusing on lateral hiring trends for partners. Next week we'll report on trends for associates and of-counsel.