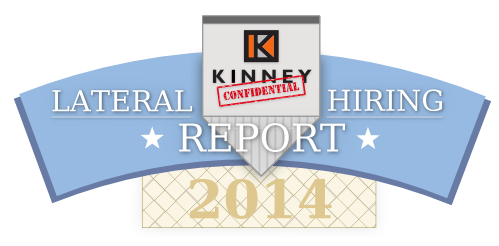 This week we are publishing the third part of our special report on lateral hiring trends in the legal market. In our prior postings we reported on the trends in lateral hiring of law firm partners and associates. This week our attention shifts to lateral hiring for of counsel positions.
These reports are based on market data we have collected on our own over the last five years. As previously mentioned, several general caveats should be noted about our methodology and the scope of the data collection:
this report only covers data for the top 200 American law firms;
it covers lateral hiring practices in 19 major domestic markets;
we collect this data on our own and make no representation as to its completeness or accuracy;
the associate numbers in particular may be subject to underreporting (more so than partner lateral hiring) simply due to law firm policy regarding public announcement
Despite these caveats we believe the data available to us and as presented here is directionally accurate as to general market trends. We also make this data available by email subscription (sign up at the bottom of this article).
Of Counsel Lateral Hiring Trends 2010 – 2014
Not surprisingly the 5-year trend for of counsel lateral hiring follows the same general pattern we discussed previously regarding law firm partners and associates. After tailing off sharply in the years immediately following the Great Recession, large law firms gradually resumed a more normal and elevated pace for lateral hiring of counsel positions as shown in the chart below.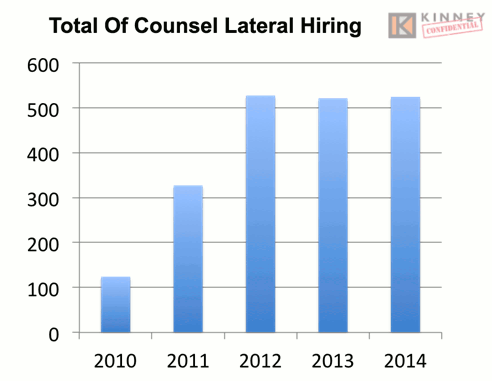 But notice over the course of the last three years how of counsel lateral hiring has held remarkably steady. This is true in the aggregate as well as when we look at the numbers broken down by geographical region or major practice areas; there has been very little variability in the level of counsel hiring from 2012 to 2014. This stands in sharp contrast to the trends we discussed previously for lateral hiring of both partners and associates, where there is considerable variability year over year. Compared to the clocklike regularity with of counsel hiring, partner lateral hiring dropped by 6.4% from 2012 to 2013 and associate lateral hiring fell off by more than 36% from 2013 to 2014.

More >>