How to Interview with a Cold Fish
Tuesday, December 16, 2014
Becoming a lawyer is no easy task. It takes years of hitting the books, late nights of studying through college and law school, followed by months of cramming for the bar exam. And then to actually land a good position in this weak job market – well it's really no surprise that applications to law school have been in a steep decline ever since the market crash in 2008.
And sometimes the biggest challenge faced by an aspiring lawyer comes at the end of the process – after you've landed an interview for the job of your dreams and then you find yourself sitting across the desk, trying to have a conversation with a lawyer who is an exquisitely cold fish.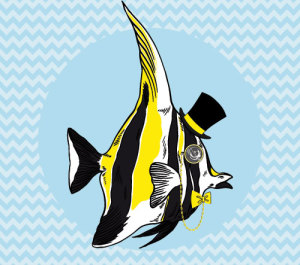 Let's face it. Some lawyers are lacking in the social graces – small talk is often not a professional's forte. And anyone who has interviewed with an old line firm like _____& ______ (fill in the blanks yourselves; we won't because we probably work for them and have friends there) has surely run into a stuffed shirt or two along the way – an interviewer who seems glum or bored or distracted, bereft of personality and unable to do anything other than make you feel discouraged about your prospects. One friend of mine tells a story about interviewing with a Wall Street firm where the partner actually fell asleep five minutes into the interview, only to be woken several moments later, when the ash fell off the tip of his cigar – this being back in the day when you could still smoke a stogie in your corner office on Maiden Lane.
So as a service to all the job seekers out there this Holiday Season preparing for their next round of interviews, our team of Kinney recruiters has prepared a list of suggestions about what to do if by luck of the draw you end up sitting across from one of those painfully shy or rude partners, whether sleeping or aware, who is having a hard time holding up their end of the conversation. Here's how to get your cold fish to start talking:
1. Of course with any interview your preparation should begin well before you're ushered into the room. With a little advance research you can easily learn where your interviewer went to school, how long they've been with the firm and with any luck some additional info, such as where they're from. You can also ask mutual acquaintances, such as a recruiter, or the person who set up the interview, for more insight. With your research complete, you'll have a few good talking points to use when the conversation hits a lull, as it surely will.
2. When you step into their office take a quick look around. See if there's a golf trophy, artwork or photos of their family on vacation that you can bring up casually in your conversation. Creating a personal connection is important in any interview but particularly when you're dealing with a cold fish. One thing you can always count on is that someone with children loves those kids, whether he/she sees them very often or not.
Prediction for 2015: A Round of Salary Increases for the Elite Firms
Wednesday, December 3, 2014
The legal market is at a trigger point.  That's our sense of it here at Kinney Recruiting.  And that's why we're making our prediction for this Holiday Season:  this will be the first year since 2007 with a round of general associate salary increases at the world's elite law firms.
It's hard to believe, but for the entire current crop of associates – first through eighth years at Big Law firms across the country – there has never been one of those sweet little emails or envelopes from the Managing Partner bringing good tidings that the firm is raising the scale of base salaries for associates and providing positive fodder for the comments page at Above the Law.  Ever since Simpson Thacher & Bartlett set the mark of $160,000 for first year associates in 2007 (read the original story) it has held in place as the top tick of the market.  As legal-salary historians know, that move was generally copied by other firms, with various safety measures to prevent payment of top salaries to less "productive" team members.
But this year (or early next year – the 2007 salary hike was announced in January) we expect the wheel to turn again.  Our basis for making this prediction is very simple, and even someone without our inside knowledge within the firms in question could make it.  Just look at the numbers published by the American Lawyer, Above the Law and other trade journals, which show profits per partner ("PPP") surging at the top tier firms, and take a look at associate salaries in percentage terms relative to those numbers.  True enough, the financial recovery in the legal market has been uneven, with continuing softness and excess capacity in many segments.  But after a few years of belt-tightening, as the deal economy has gradually come back to life, the top end of the legal market is doing better than ever – and then some.  Take Cravath, for example, where PPP has bounced all the way back from the 2007 level of $3.3 million to $3,448,000 in 2013.  The same is true at Sullivan & Cromwell and a handful of other top firms, where PPP now exceeds the pre-recession levels.  But in the same time frame, the needle hasn't moved on associate salaries.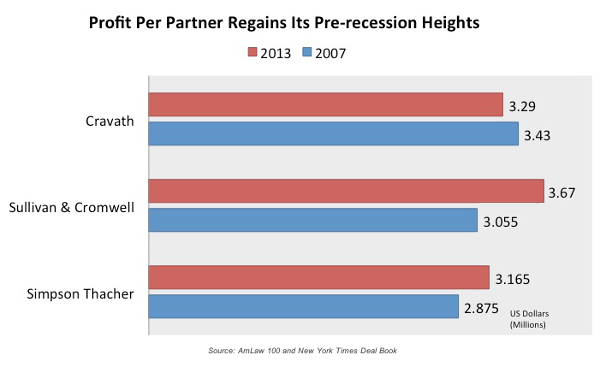 Some folks seem to think that associate salaries are somehow correlated to geography or cost of living, but we've been around long enough to remember the way the elite firms play this game, and it has nothing to do with zip codes or inflation.  For a handful of firms in New York this used to be a game of bragging rights when they showed up for campus interviews at Harvard and Yale. Read more…
Kinney Recruiting Expands into Chicago
Tuesday, November 25, 2014
Kinney Recruiting is pleased to announce the expansion of our services to the Chicago market.  With the opening of our newest office, we are now providing legal recruiting services on the ground in the Windy City as well as Austin, Dallas, Frankfurt, Hong Kong, Houston, Miami, and New York.  This strategic growth allows Kinney to further service some of our most important clients – many of whom call Chicago home, and to continue our standard operating procedure of keeping our ear close to the ground in every market we serve.
Our office in Chicago will be led by Chris Miller, who originally hails from the great state of Texas.  Chris has been a licensed attorney for more than 18 years, with a particular expertise in the management of large scale e-discovery programs, both at national firms and in the operation of third-party vendors. Read more…
View More Blog Posts >>