The New ATL Power Rankings
Thursday, November 6, 2014
Last summer we were approached by our friends at Above the Law about the possibility of sponsoring their new law firm rankings.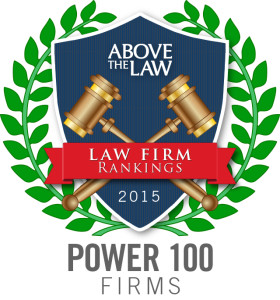 Since we know that lawyers (our target audience) are obsessed with seeing where they stand relative to their peers, it struck me as likely that the sponsorship would be valuable just from an "eyeballs" perspective. But nevertheless I was a little dubious at first about the value of such an undertaking. Is one more law firm ranking really necessary when we are already so well-endowed in this department by the American Lawyer and the National Law Journal, among others?
But after reviewing the research findings it became clear to me that Above the Law was on to something new and different in the way they were approaching the rankings. After all, the traditional approach to law firm ranking, pioneered by Steve Brill at the American Lawyer back in the 1980's, focuses almost exclusively on questions of revenue and profitability, seeking to establish the law firm pecking order based on such fundamental metrics as total revenue and profits per partner. There is no doubt that this served a real purpose in the market initially, by exposing what had previously been very closely held information to the light of day. Read more…
WHY NOT USE A RECRUITER IN ASIA WHO HAS MADE OVER 125 RECENT PLACEMENTS OF US ASSOCIATES AND COUNSELS IN ASIA?
Thursday, October 9, 2014
If you are a US associate at a top US firm and contemplating a move from US to Asia or within Asia, your choice of recruiter / agent may have a great influence over your job search experience.  There are three realities of selecting a recruiter that have the potential to greatly influence your career: First, the vast majority of recruiters who are calling you have the time to make those calls only because there is nothing else they really do and their contacts at firms are minimal at best, notwithstanding their convincing claims to have close relationships with various US partners at target firms in Asia.  Second, most recruiters in the Asia markets (whether they are based in Asia, US or elsewhere) will send your resume to many more firms than you give them permission to contact.  This type of behavior of recruiters is unfortunately common in the US markets too, but even more prevalent in the Asia markets.  Third, many recruiters who are calling you with news of an opening at your level at one or more of the three most targeted and popular firms in HK / China for US associates are simply making up a story (maybe there actually is an opening at one of those firms, but they don't care or know, they only know they have a better chance to get your resume if they talk about "openings" at your level at a particular firm or firms).
Against this backdrop consider that most recruiters covering the Asia markets have not made more than 10 placements of US associates in Asia in their lifetimes. Read more…
ASIA GENERAL COUNSEL OPENING IN SHANGHAI AT WELL KNOWN WESTERN BASED GLOBAL AUTO INDUSTRY COMPANY
Thursday, October 9, 2014
One of our law firm clients has referred us to one of their important clients in the US, Europe and China – a leading global technology supplier for the auto industry – in order to handle their search for a new Asia General Counsel and Asia Chief Compliance Officer.
Kinney is exclusively handling this in-house search.
This position will have a lot of responsibility and include supervision of eight attorneys underneath them in the China in-house team.  The new hire will report directly to the global general counsel and global chief compliance officer, who is based in the US.  The new hire's ability to make judgement calls is going to be as important as their technical skill set background.
The position is based in Shanghai and will deal with the company's operations all over Asia and also in India, including frequent acquisitions in the region.
It is expected that the new hire will come from a top US firm's Shanghai, Beijing or Hong Kong offices, currently in a top flight corporate practice at the senior associate, counsel or junior partner level.
Mandarin fluency is strongly preferred.
Compensation package is at over $500,000 USD.
Please reach out to Evan Jowers at or if you are interested.
View More Blog Posts >>