Five Steps to Getting the Job You've Always Wanted in BigLaw
Wednesday, May 27, 2015
A recent article in The Economist discussed 'How to join the 1%.' The article starts by saying, "Management consultants, investment banks and big law firms are the Holy Trinity of white-collar careers." To many of our candidates and most of our clients, this statement is a truism. The article concludes by counseling that the key to joining the 1% is not so much brainpower but self-confidence and people skills.  This is something that we at Kinney Recruiting have known for a long time. While, for better or worse,  we work primarily with elite candidates, many just don't cut it to progress through the biglaw ranks because of intangibles.  Some of our most successful placements have been people who were less brainy and more people-skilled.  The article got me thinking: What does our experience tell us about the best tips for getting and staying with the biglaw elite?
[Caveat: In our opinion, one remains a part of the biglaw elite so long as he/she is employed in a "desirable" position from the point of view of an attorney at the same level.  Though always rare, the closer a biglaw partner gets to retirement age, the fewer such jobs exist outside of biglaw.]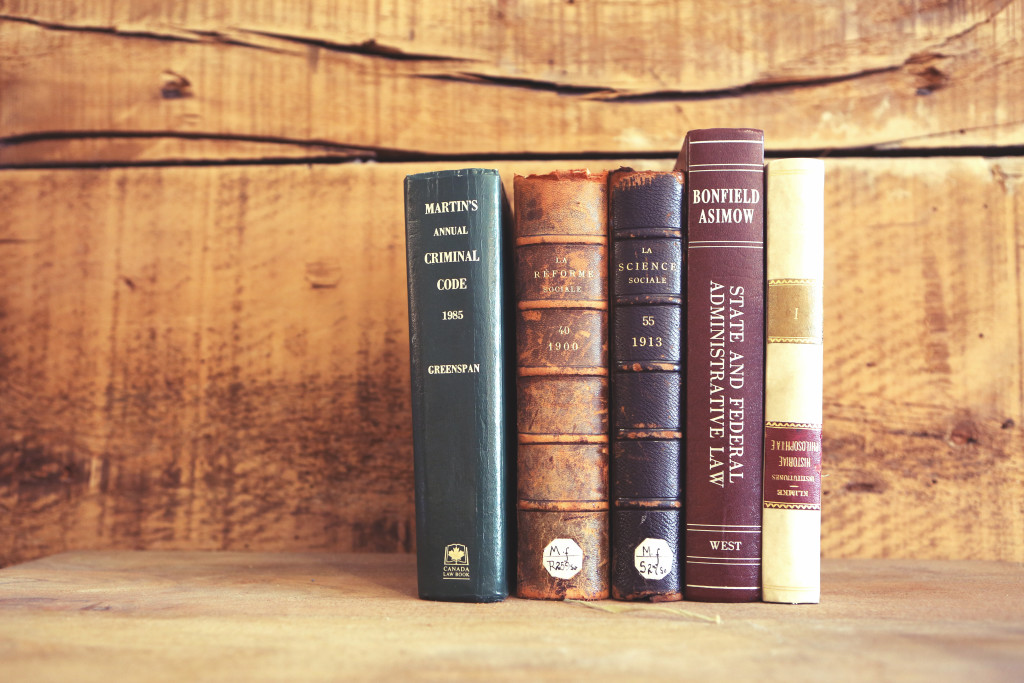 Step 1: Focus your College Career
Starting in undergrad and through law school, have an idea of what your goals are. If it's getting into a top ten law school or joining a top ten firm, keep in mind that your grades and GPA are going to matter. Sure, everyone wants the typical college experience, but sometimes you have to think of the big picture. If you want to graduate at the top of your class, you're going to need to spend some time a lot of time in the library. And when you're not studying, you should be thinking about what area of law you want to work in. While in law school, explore the type of law that interests you through your internships. Having a job offer before you graduate with your JD is key, so take the time a figure out exactly what direction to steer your career.
Step 2: Learn a Language
With so many firms going international, being fluent in a second language is a huge advantage.  It's naive to think that big firms these days are only working with English-speakers. You will have the opportunity to use most languages in the course of your work, and if you are working in Asia for example, you will absolutely need to speak the local language to converse with clients.  That's why we recommend you learn a language.  The truth is that native English speakers who have actually learned to speak a foreign language well enough to easily and fluently converse in the language are just more interesting and self-confident than those who haven't bothered.  As such, they perform better in interviews. Better performance in interviews means more offers.  Done.
Read more…
Chicago: A Look at 2014 Trends and What's Coming in 2015
Monday, May 18, 2015
At Kinney Recruiting we like to collect and use data to help people make informed decisions. Now that we're almost half-way through 2015, we wanted to take a look back at what we saw in 2014 so we could give some thoughts on what the rest of 2015 will hold for those looking at potential lateral moves in the Chicago market.  As always, we reserve a fair amount of our data for our clients and candidates, so if you any questions about the information below, please get in touch – chicago@kinneyrecruiting.com.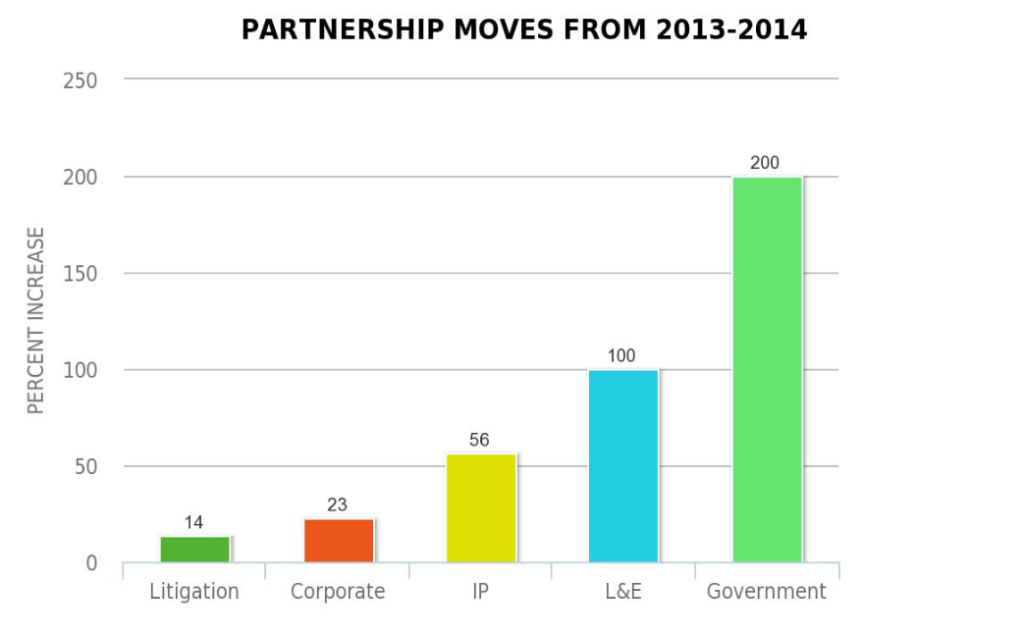 Over the course of the last five years (2010 through 2014), lateral partner moves in Chicago have predominantly come in three major practice areas: Corporate, Intellectual Property and Litigation. The latter category leads the way in total number of moves, 56, but moves in IP practices saw the biggest percentage increase. Partnership movement increased in all three areas from 2013 to 2014. The number of Litigation partner lateral hires has grown each year since 2010 and in 2014 there was a 14% jump from 2013. Corporate partner lateral moves were up 23% in 2014 and the IP partner moves were up 56% from 2013. A couple of other areas worthy of note because of increased velocity were in Labor & Employment and Government. There was a 100% increase in L&E Partner lateral hires and a 200% increase in Government partner lateral hires.
The same three areas of law that dominated the partnership lateral hires were similarly active for associate moves. In all three areas there was positive growth in the five year period from 2010-2014. But despite an increase in lateral hiring of partners from 2013 to 2014, the trend was actually reversed for associates. In this time frame, Corporate laterals dropped the most with a 62% decrease in hires. Lateral litigation associate hires dropped 38% and IP dropped 13%. Despite the large increase in partnership laterals in Labor & Employment from 2013 to 2014, there was a dip of 29% for the associates. Areas such as Bankruptcy-Corporate Restructuring and Healthcare stayed even for the year and there was an increase for ERISA/Employee Benefits laterals.
Stepping Stones of Staffing: A Look into What it Takes to Staff a Major Firm's New Office
Friday, May 8, 2015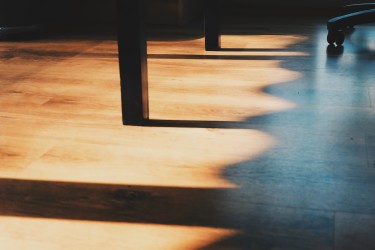 Those of us at Kinney Recruiting have built a lot of connections and friendships over the years with law firm partners and staff. Luckily, most of us are likeable most of the time, and we don't have many enemies (though there are a few small firms and one large firm out there who don't like us because we made them pay their bills when they would rather have not, but that's another story).
So we tend to see lots of opportunities.
One of our favorite things to do for firms is a major "soup to nuts" staffing project for a new office.  We've become experts at that, and I thought it might be useful to use the backdrop of recent experience to describe the anatomy of how that sort of deal can work well for firms considering opening a new office.
Last year we had the opportunity to be part of the team tasked with the exclusive to staff a major office in a major U.S. city. Initially, after identifying and onboarding a few of the key lateral partners, we were asked how we would suggest coordinating rapid hire of as many as 25 or 30 associates. So what was the process for recruiting an entire team? Below I've outlined the basic steps we took and a few of the considerations we had during the process.
Step 1:
The office opened with a strong M&A/PE team.  In an initial meeting with the recently added partners and those in charge of hiring, we established the hiring criteria for candidates.  We were asked to focus first on just one practice area (M&A/Private Equity) for the associate build-out, the most pressing need.
We helped the client understand the market for the level of talent they sought. Together, we developed our strategy, which in the case of this particular client necessitated willingness to pay significant cash signing bonuses.
Our first priority was to get as many 1-4 year attorneys as we could to interview. Since the firm had several needs, including the addition of Finance and CAPM Partners, Kinney was able to make contact with 100's of attorneys nationwide, many of whom were people we already knew.
Read more…
View More Blog Posts >>