At Kinney Recruiting we like to collect and use data to help people make informed decisions. Now that we're almost half-way through 2015, we wanted to take a look back at what we saw in 2014 so we could give some thoughts on what the rest of 2015 will hold for those looking at potential lateral moves in the Chicago market.  As always, we reserve a fair amount of our data for our clients and candidates, so if you any questions about the information below, please get in touch – chicago@kinneyrecruiting.com.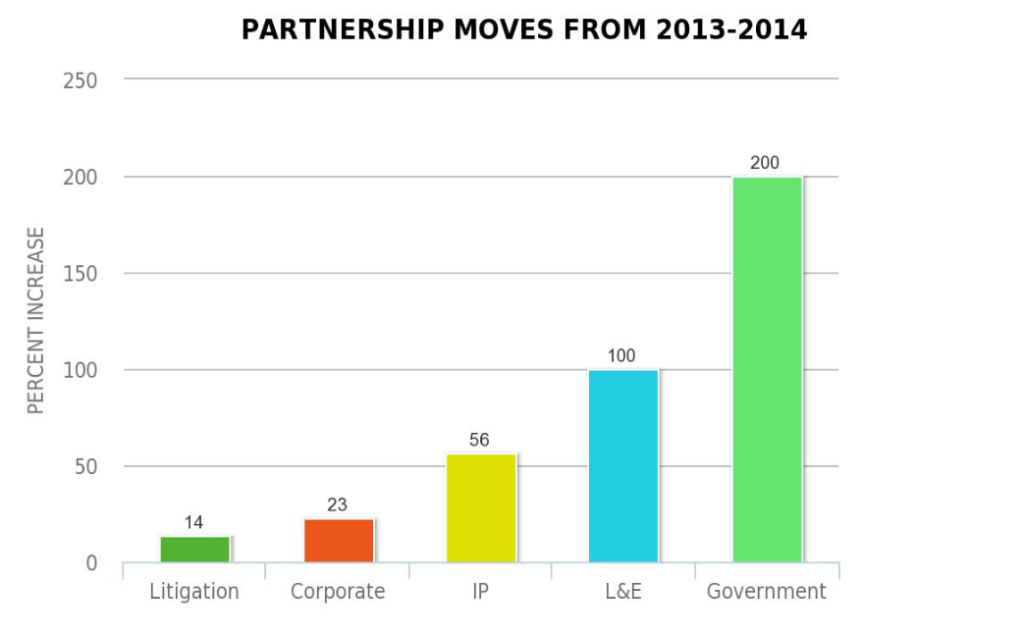 Over the course of the last five years (2010 through 2014), lateral partner moves in Chicago have predominantly come in three major practice areas: Corporate, Intellectual Property and Litigation. The latter category leads the way in total number of moves, 56, but moves in IP practices saw the biggest percentage increase. Partnership movement increased in all three areas from 2013 to 2014. The number of Litigation partner lateral hires has grown each year since 2010 and in 2014 there was a 14% jump from 2013. Corporate partner lateral moves were up 23% in 2014 and the IP partner moves were up 56% from 2013. A couple of other areas worthy of note because of increased velocity were in Labor & Employment and Government. There was a 100% increase in L&E Partner lateral hires and a 200% increase in Government partner lateral hires.
The same three areas of law that dominated the partnership lateral hires were similarly active for associate moves. In all three areas there was positive growth in the five year period from 2010-2014. But despite an increase in lateral hiring of partners from 2013 to 2014, the trend was actually reversed for associates. In this time frame, Corporate laterals dropped the most with a 62% decrease in hires. Lateral litigation associate hires dropped 38% and IP dropped 13%. Despite the large increase in partnership laterals in Labor & Employment from 2013 to 2014, there was a dip of 29% for the associates. Areas such as Bankruptcy-Corporate Restructuring and Healthcare stayed even for the year and there was an increase for ERISA/Employee Benefits laterals.
More >>